Source: Ngân hàng Thế giới
PRESS RELEASE
November 28, 2018
Surges in domestic consumption and exports drive the economy
Phnom Penh, November 28, 2018 — While global economic prospects continue to moderate, and risks have heightened, Cambodia continues to grow, according to the latest edition of the World Bank's Cambodia Economic Update report, released today. The growth rate is expected to be marginally higher than last year, reaching 7.1 percent in 2018, driven primarily by domestic consumption and exports.
Following a gradual recovery in the second half of 2017, Cambodia's exports surged, supported largely by strong demand in the United States and the European Union. Cambodia is among few countries in the East Asia and Pacific region expected to experience marginal improvements in growth.
Risks in the financial sector continue to grow, with large exposure to the construction and real estate sector. External risks include the potential withdrawal of Everything But Arms preferences for Cambodia and the unpredictable spill-over effects of US-China trade disputes.
"Priorities for Cambodia include safeguarding the health of the financial sector, while building up reserves, strengthening competitiveness and preventing rapid real exchange rate appreciation, given the recent surge in imports," said Sodeth Ly, World Bank Senior Economist for Cambodia.
While the longer-term outlook remains positive, Cambodia needs to develop its physical and human capital to attain higher income status in the long term.
"To achieve its upper middle-income country aspirations, Cambodia needs to increase its investment in human capital and infrastructure and adopt reforms that enable sustained and inclusive growth. Mobilizing significant domestic savings to boost investment is critical to attain what high-performing Asian economies have achieved," said Inguna Dobraja, World Bank Country Manager for Cambodia.
The report also calls for further bridging the infrastructure deficit to absorb rising foreign direct investment in manufacturing and agro-processing, as well as continued improvements to the business environment.
The Cambodia Economic Update is a biannual report that provides up-to-date information on short and medium term macroeconomic developments in Cambodia.
Contacts
Phnom Penh
Saroeun Bou
(855 12) 414 088
sbou@worldbank.org
Washington, DC
Marcela Sanchez-Bender
msanchezbender@worldbank.org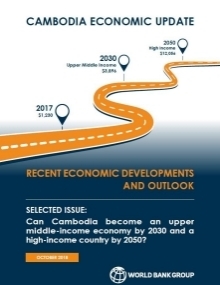 http://www.worldbank.org/en/news/press-release/2018/11/28/cambodia-continues-to-grow-despite-global-economic-challenges-world-bank